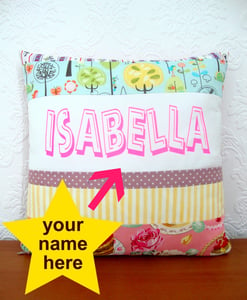 £

25.00
Make it special with a name, or let me print a message of your choice.
Ideal gift for birthdays or christenings or any special occasion.
Each cushion is 14 inches square and is always one of a kind mix of fabrics and colours.
If its a name I will mix the fabrics according to the gender, or maybe you want the message to be unisex, therfore the fabrics will be none specific..
Choose the option and then at checkout leave me a message with what you want printed.
Boys will be printed blue and girls in pink, unisex will be printed black.
Cushions will take approximately 7-10 days to get printed and delivered.
sold as cover only to keep postage cost to a minimum.